Do you have an eye for perfectly designed websites or platforms and want to earn from testing them? Well, Just like there are websites and communities for any other thing you love, there is also a community where people can come together to test different websites for UX (user experience). The best part is that you get to earn while doing so.
What is Intellizoom?
Intellizoom is a subsidiary community of Userzoom. And they offer their clients reports from tested products that pinpoint areas that can be tweaked on their website for optimum user experience. The people doing the testing of these products are paid, and this is what you should be concerned about if you want to make money online. 
Working with Intellizoom means representing customers for a company niche and giving direct reviews and feedback on how you perceived their products as well as other changes, upgrades, and tweaks that can be improved on the website and software for optimal user experience.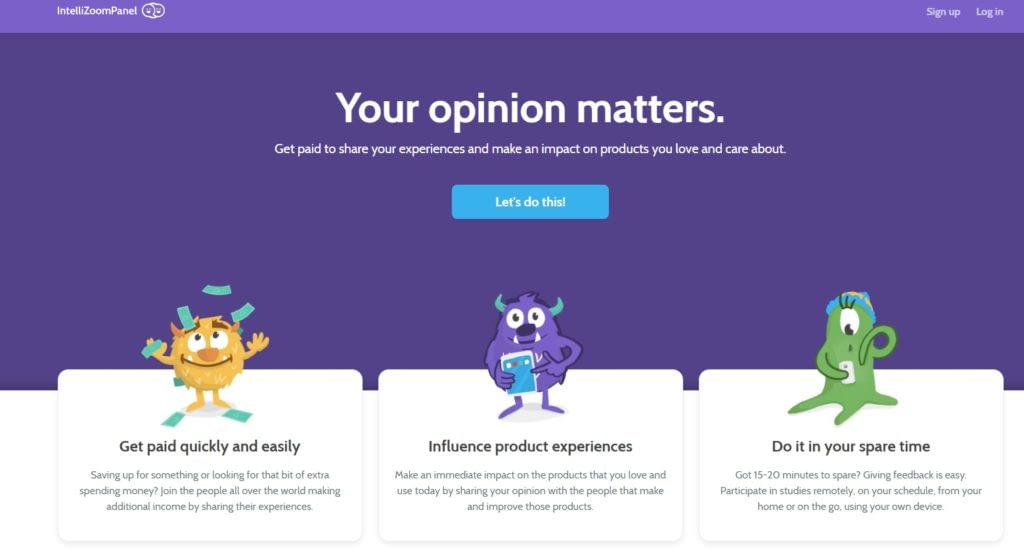 Signing up in Intellizoom
For clients to achieve optimal user experience for their websites and applications, they need an outsider, or an ideal customer to prevent hurting reviews when their products and software are released into the market. Intellizoom represents the middleman between the companies and surveyors who can test products for their targeted audience. Both parties are chosen in terms of geographical location and other metrics for which the business is based.
During the registration, they may require some questions that may seem personal, but you need not worry because their terms and policies do not allow them to share such information outside of Intellizoom.
Part of the registration requires you to verify your device for the study. Your device could be anything; a phone, a tablet, or a computer. This is an essential process because they need to match your requirements with clients' demands. There is no need to panic; you don't need a tech beast or a military-grade device to meet these requirements. They are the average computers and devices we use every day.
Part of the registration also carries a practice phase that you don't get paid for. Also, you might want to know that your face, screen, and voice is always on record anytime you are surveying a website or software in Intellizoom.
The tests are not tricky neither do they require much. When it is your turn to get tested, an email will be sent to you, which will lead to your dashboard, where you will work on the available studies as prompt as possible. Your selection depends on how prompt you are since acceptance in Intellizoom is a case of first come, first serve.
Working requirements in Intellizoom
The requirements are not demanding. You just need:
to be 18 years or older; You may need some mode of identification or certification to prove your age.
to be able to conduct surveys accurately.
good internet.
a working webcam
Intellizoom does not allow its users to possess more than one account.
You are not allowed access to contact their customers.
Just like they do not share your personal details, you are not allowed to share any information from your surveys.
For a computer, it must have windows 7 or more.
You also need a working PayPal account for payment purposes.
Preferably, you should have a headset microphone.
Memory space at all times because you may need to install the software at different intervals.
Website features in IntellizoomPanel
For a website that helps companies to increase their user experience, Intellizoom is easy for just anyone to figure out their way around. After setting up your profile, you will be directed to find available jobs of your interest.
Some of the reviews that you will be conducting require you to speak out loud, or answer specific questions. When completed successfully, your answers are submitted to a control panel before you can earn. The tasks on Intellizoom that you are likely to work on are not limited to these categories;
Screenshots
this requires you to take the screenshot of a web page or the page of the software.
Diaries
This type of study takes longer and may require consecutive tasks. You will be allowed a time frame to record your findings, and then on the final day, you will give the last feedback on your findings.
Card sort
this is a task that is involved with navigation testing. You are to test for the ease of navigation for websites. In the end, companies can be able to improve the navigation of their websites. This test is not as hard as it seems. In summary, you are provided with a list of pages, items, or other concerning factors. Your job is to arrange them stage by stage.
Moderated studies
This kind of study involves a moderator who will sometimes guide you face to face while surveying some apps and websites. It can also come in the form of group participation with an advanced schedule for all to meet.
How Much Will You Earn in Intellizoom?
The amount of money to earn on Intellizoom depends on apps and websites tested and the nature of the survey. Some sophisticated products can make you a little above $10, while other simple products can earn you about $5 on average.
Payment Procedure for Intellizoom
After a survey is completed on an application, you will need to wait for 21days after the survey is accepted to get paid through your verified PayPal account. To successfully get paid, you need to scale a grading process on the app. Hence, you need to make sure that you pay attention to details.
Pros and Cons of Working with Intellizoom
Pros of Working with Intellizoom
They have a reputation for reasonable payment and pay you in the right amount for each survey.
You get to work from the comfort of your home.
Intellizoom is available in all countries so that you can register.
The requirements are pretty average, of course, everyone has a phone.
Cons of Working with Intellizoom
One of the major pros is the difficulty it takes to be invited to take surveys since the surveys are based on demographics.